Why right-wing protesters in Madrid are calling Spanish PM Pedro Sánchez a 'traitor'
Comments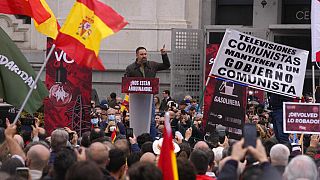 -
Copyright

Paul White/Copyright 2022 The AP. All rights reserved
Tens of thousands of people gathered in central Madrid on Saturday to hold a rally in protest at the centre-left government of Pedro Sánchez.
The demonstration was backed by the far-right party Vox but the centre-right main opposition conservatives, the Partido Popular, also took part as well as several smaller libertarian groups.
Addressing the protesters, Vox leader Santiago Abascal said he was there to support a mobilisation "against the worst government in history".
Protesters waved the Spanish flag and called Sánchez a traitor.
Among other issues, the right is angry at the government's decision to abolish the crime of sedition, of which nine separatist leaders were convicted over their role in Catalonia's abortive independence bid in 2017.
It was replaced with an offence carrying a lower prison sentence.
The government argued sedition was an antiquated offence that needed to be replaced with one better aligned with European norms.
For more watch Euronews' report in the video above.