France and Spain sign a friendship treaty as their leaders meet in Barcelona
Comments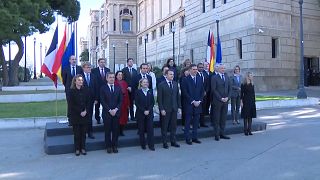 The Spanish Prime Minister, Pedro Sánchez, and the French President, Emmanuel Macron met for talks in Barcelona on Thursday.
The neighbouring countries took advantage of the bilateral summit to sign a friendship and cooperation treaty reinforcing ties on issues such as migration, defence and energy.
Paris is seeking to cement stronger ties with neighbours other than Germany, notably those in southern Europe, at a moment when the Paris-Berlin alliance underpinning EU unity is showing signs of strain.
The two leaders will have had much to talk about including a plan to build a massive underwater hydrogen pipeline connecting Barcelona and Marseille that will be key for the EU's energy independence.
Macron is also seeking Spanish support for his stance on a potential row with Washington involving subsidies for green energy companies. 
Europe fears the plan, which will pour billions of dollars into climate-friendly technologies, will distort transatlantic trade to give American companies an unfair advantage.
The French leader is also hoping to enlist Olaf Scholz to his position, although the German chancellor has so far appeared more inclined towards dialogue than dispute with Washington.
Scholz is expected in Paris on Sunday to mark 60 years since the signing of a Franco-German post-war friendship treaty.
Domestic problems
Observers say Pedro Sánchez chose Barcelona as a venue for the summit to demonstrate that the crisis over Catalonian nationalism is at least under control for now.
But as if to remind him that it hasn't gone away, pro-independence supporters took to the streets, including the former Catalan vice-president and leader of the Republican Left of Catalonia, Oriol Junqueras.
Macron meanwhile has his own problems back home. 
On the same day as the summit French trade unions staged a day of nationwide strikes in protest at his plans to raise the official retirement age from 62 to 64.