Portugal announces new vetting system following string of government scandals
Comments
By Euronews with Reuters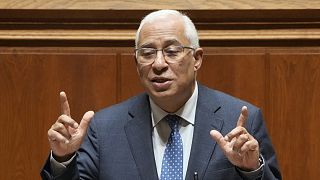 -
Copyright

Armando Franca/Copyright 2023 The AP. All rights reserved
Portugal's government said on Thursday that future officials would undergo a new vetting system before being appointed following a string of hiring scandals that has rocked the ruling Socialist Party.
Candidates would have to answer a set of 34 questions that would allow the government to verify each individual's background and ascertain there that there were no conflicts of interest, Presidency Minister Mariana Vieira da Silva told a news conference.
Vieira da Silva added that they would also have to sign a declaration of honour.
"This mechanism is prior to nomination and seeks to anticipate a problem," she said. "It is not an investigation... it is a set of questions that allows the person to take responsibility."
Opposition parties have responded negatively to the new questionnaire, with Left Bloc lawmaker Pedro Filipe Soares describing it as "ridiculous".
He added: "The prime minister is telling us that he will ask questions to the people he invites to the government? He didn't do that before?"
The Socialist government, led by Prime Minister Antonio Costa, has faced numerous challenges since winning a parliamentary majority in last year's election.
Since then, 11 ministers and secretaries of state have left their roles, in certain instances over allegations of past misconduct or questionable practices.
Earlier this month, secretary of state for agriculture Carla Pereira -- who quit around 26 hours into the job -- found herself splashed across front pages after she allegedly had her bank accounts seized due to a corruption investigation into her husband, a former mayor.
In late December, infrastructure minister Pedro Nuno Santos resigned after a public outcry over hefty severance pay received by a new treasury secretary from state-owned airline TAP, which fell under the minister's remit.
In November, Costa's right-hand man, Miguel Alves, stepped down following formal accusations of malfeasance during his time as mayor in 2015-16.