Government reshuffle in Portugal after scandal 'shocks' the country
Comments
By Euronews with AFP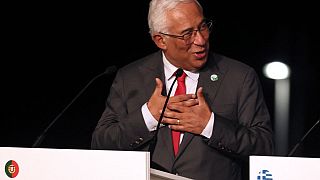 -
Copyright

JOSE JORDAN/AFP or licensors
There has been a mini-reshuffle in the Portuguese government, following a controversy that "shocked" the country. 
Portuguese Prime Minister Antonio Costa announced on Monday that two new ministers would be appointed to government, amid a scandal over severance pay paid by TAP Air Portugal.
The case, which was revealed by the media, has "shocked the country", the head of Portugal's socialist government said at a press conference. 
Last week, the revelations about the Portuguese airline triggered the resignation Minister Pedro Nuno Santos. 
He was considered one of the main contenders to succeed Costa within Portugal's Socialist Party.
Costa has nominated current Secretaries of State Joao Galamba and Marina Gonçalves to be appointed Ministers of Infrastructure and Housing, respectively. 
He justified choosing these two officials due to their ability in implementing important investment projects financed by the European post-Covid recovery plan.
"It's not a sign of exhaustion" of the government, Costa said in front of journalists on Monday. 
The mini-reshuffle was preceded by the resignation of former Secretary of State for the Treasury Alexandra Reis, after she left the board of TAP with compensation of 500,000 euros last February.
She was appointed a few months later as the head of the public company in charge of air traffic control. 
Portugal's General Prosecutor's Office announced on Monday that it had opened an investigation into the compensation given to Reis, after she was dismissed from TAP by its director general, Christine Ourmières-Widener.
Renationalized in 2020 in order to receive 3.2 billion euros in public aid, TAP is closely scrutinized and regularly gives rise to lively political debates.
This recent controversy has further weakened the government of Antonio Costa, which was already struggling to breathe new life despite its large victory in the early legislative elections last January.