France's Le Pen appeals to 'yellow vest' protesters for Europe election
Comments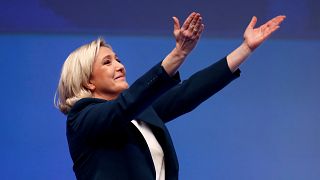 France's far-right leader Marine Le Pen has launched her party's campaign for the May 2019 European Parliament election by vying for support from the 'yellow vest' protest movement. 
Tens of thousands of demonstrators have staged nine straight weeks of protests against President Emmanuel Macron's economic reforms that they say favour the elite. 
The leader of the National Rally, formally known as the National Front, urged the movement to make the EU vote a referendum on the president's policies. 
"In the context of the healthy popular revolt of the yellow vests, this European election on May 26, 2019 (..) offers the opportunity to unravel the political crisis born out of blindness, intransigence, class contempt, economic despoliation, and the human disconnect of a president," Le Pen told an election rally for her National Rally party.
The yellow vest movement has become a thorn in Macron's side. Born out of anger over a fuel tax hike, the protests have since spiralled into discontent with the president and have at times turned violent.  
Although the movement has no overarching leader and is not linked to any political party or union, it does broadly share some of the far-right party's demands. Those include proportional representation in parliament, direct democracy through Swiss-style referendums, less European integration, and the president's resignation.
"If Macron does not have the wisdom to go back to the people by dissolving parliament, then let the political arbitrage come from European elections," Le Pen said, as her supporters chanted for Macron to quit. 
Both Le Pen and France's far-left leader Jean-Luc Melenchon have expressed their sympathies with the yellow vests and called for their support. 
Le Pen is not running in the European election as she wants to remain in the French parliament. Instead, she presented 23-year-old Jordan Bardella as the party's leading candidate.
Le Pen said: "the battle is now between nationalists and globalists." 
Macron's La Republique en Marche and the far-right party last faced off in the presidential vote of 2017. 
However, since the start of the yellow vest protests in November, Le Pen's National Rally had gained in the polls with 24%, while Macron's party, whose own popularity has dwindled,  scored 18%.