Italian police arrest citizens with suspected to links to ISIL terrorism
Comments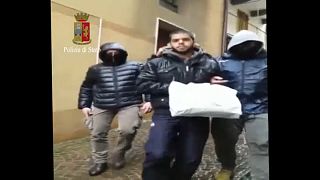 Police in Italy say they have arrested a 23-year-old man of Morroccan origin who is accused of extremist links with so-called Islamic State.
The naturalised Italian was captured by anti-terrorism police in the northwestern city of Turin. He is part of a wider number of arrests on charges that include radicalisation via the internet.
Over the past two days searches have been taking place in eight Italian cities including Milan, Modena, Bergamo , Naples and the capital Rome.
Police said a number of Italians who have converted to Islam are also involved in the investigation as well as citizens of foreign origin.
On Tuesday an Egyptian was arrested in Foggia. The fifty-nine year old is accused of teaching children extremist and violent interpretations of Islam.
The arrest came after Italian intelligence and finance officers monitored the suspect's sermons and bank accounts.
Italy has expelled 264 religious extremists since 2015 and unlike France, Spain, Germany, the UK and Sweden has not had any Islamic terror attacks.