May seeks EU support for UK over 'pattern of Russian aggression'
Comments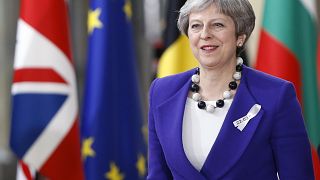 European Union leaders are meeting for a two-day summit in Brussels, where British Prime Minister Theresa May has warned that Russia poses a threat to the whole bloc in the wake of the nerve agent attack on UK soil.
Britain also faces a crucial challenge in getting a deal signed off on a transition period after Brexit in 2019. Earlier this week British and EU negotiators announced agreement on most issues, but there are still concerns over the Irish border in particular.
EU leaders have cautiously welcomed news that US President Donald Trump had decided not to apply tariffs to European steel and aluminium, but added that they were waiting for confirmation from Washington.
'Russia does not respect borders'
Theresa May is expected to urge joint action over Russia, accusing it of a "brazen and reckless attack against the United Kingdom" upon her arrival in Brussels.
"It's clear that the Russia threat does not respect borders and indeed the incident in Salisbury was a pattern of Russian aggression against Europe and its near neighbours."
Lithuania's President Grybauskaite has said she is considering expelling Russian spies from her territory. However, Greece and Hungary are named as countries reluctant to go too far against Russia.
Diplomats have reportedly stressed that May is not seeking a formal EU strategy. One official quoted by Reuters said there were "several willing states" ready to act over the Skripal case, but that this would likely be done bilaretally outside the bloc.
A draft joint statement by EU leaders says only that they take "extremely seriously" London's blaming of Russia for the attack.
'Nauseating' message
Jean-Claude Juncker's letter of congratulations to Russia's President Putin over his re-election last weekend was condemned as "nauseating" and "shameful" by British Conservative politicians.
The European Commission president's message was not shared by other senior EU leaders. Guy Verhofstadt, leader of one of the biggest groups in the European Parliament, said "this is no time for congratulations". EU Council President Donald Tusk told reporters: "After the Salisbury attack, I'm not in the mood to celebrate President Putin's reappointment".
"Instead of congratulating Putin, they should focus on the reckless Russian behaviour. It's unprecedented to actually attack one of our allies and partners directly on their own soil, as we saw in Salisbury. So I think the European Union should react, not only in statements and words, but also in action," former NATO Secretary General and ex-Danish prime minister Anders Fogh Rasmussen told Euronews.
Putin's election victory came with the Kremlin controlling almost all of the media, and the president's main rival Alexei Navalny barred from the contest. There were also allegations from various sources of electoral fraud.
'Unclear' whether Skripals will recover
Sergei Skripal and his daughter remain ill after their poisoning by a nerve toxin on March 4. A British court has given permission for blood samples to be taken from the pair for testing by the Organisation for the Prohibition of Chemical Weapons (OPCW).
Judge David Williams said that it was unclear whether they would recover. "Medical tests indicate that their mental capacity might be compromised to an unknown and so far unascertained degree," he said in his ruling.
Nick Bailey, a policeman also affected by the attack,was released from hospital on Thursday after more than two weeks of treatment. The officer was taken seriously ill after taking part in the early response to the attack on the Skripals. Police said earlier that his condition had been improving each day.
The UK's expulsion of Russian diplomats in response to the Salisbury poisoning brought a tit-for-tat response from Moscow, which denies involvement.
Russia's ambassador to the UK has accused the UK of failing to provide facts on the attack and to cooperate with Moscow. Alexander Yakovenko also condemned comments by British Foreign Secretary Boris Johnson, who compared Putin's use of this summer's football World Cup in Russia to Hitler's manipulation of the 1936 Berlin Olympics.
Relations between the two countries are now at their worst for decades.
Brexit deal
Earlier this week the EU and the UK announced an interim deal on arrangements for the immediate period after Brexit takes effect at the end of March 2019. British Brexit Minister David Davis and the EU's chief negotiator Michel Barnier said agreement had been reached on a large part of the accord.
However, there have been warnings that the 27 leaders will only endorse the accord to grant the UK a 21-month transition, on terms similar to current conditions, if London stands by its commitments on the Irish border and Gibraltar.
Donald Tusk, the summit chairman, has said Spain has agreed to new wording after seeking a reiteration of its interests being protected over the British territory on its south coast.
Ireland has also been anxious to ensure Britain respects promises to keep the border with Northern Ireland open after Brexit. The UK has conceded that a legally-enforceable "backstop" option must be included in the withdrawal treaty guaranteeing no hard border, but the two sides disagree over solutions.
"Obviously the backstop, is a backstop, its the C scenario and we're working towards the A scenario, making sure that we have that close comprehensive free trade arrangement with the UK, and between the UK and the EU, however, we are very certain and Ireland is very clear that a backstop must be included in the withdrawal agreement," Irish EU Affairs Minister Helen McEntee told Euronews.
The text of the interim deal reminds the UK that agreement on the transition will only become binding once the whole treaty on the country's exit from the EU is agreed and ratified, which is not expected to happen until early next year.