Europe lagging behind Asia and North America in 5G race, warn industry leaders
Comments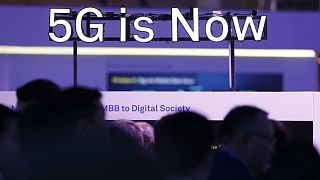 The heads of two multinational telecommunications companies have said Europe is behind the curve when it comes to the implementation of a 5G infrastructure.
CEOs from Nokia and Vodaphone said Europe was behind the likes of Asia and North America when it came to the development of fifth-generation wireless systems as the World Mobile Congress 2018 (WMC) entered its first day.
This latest generation of wireless technology will render high-definition downloads to smartphones almost instantaneous, allow drones to be controlled from kilometres away and ensure devices don't lose internet connections when travelling from country to country.
EU policymakers stalling
"I think we have an amazing opportunity in Europe," said Vodafone CEO Vittorio Colao, speaking at the WMC, where he explained the implementation of 5G services would greatly boost the economy and create jobs.
However, he thought that those in charge of policy were stalling on a Europe-wide rollout of a 5G network.
"Europe is a small territory with a lot of people and a lot of diversity, are we at the forefront of 5G? The answer is no because policymakers don't have this view. It will be slow, fragmented and it won't be exciting," he said.
Nokia Chief Executive Rajeev Suri was of a similar opinion, citing China and the US as the power players in the emerging market.
"Far and away, the US and China activity will dwarf Europe... I think some 5G will be launched (in Europe) at some point in 2019," he told Reuters in an interview ahead of the WMC.
Operators hesitant to invest
Suri said he also expected large deployments in South Korea and Japan sooner than the industry could have expected a year ago, as major telecom operators accelerated their timelines.
Despite the financial incentives offered by potential new services linked to connected devices, existing 4G capacity in Europe is likely to be consumed before operators are willing to invest the billions of euros needed to create new networks.
Other Asian countries like China, on the other hand, are getting ahead by building preliminary 5G networks before the technology becomes readily available.
South Korea saw 5G tests during the Winter Olympics in Pyongyang from the likes of Samsung and Intel.
Such trials allowed HD broadcasts from live cameras in bobsleds travelling at speeds of up to 150 km/h.
According to Colao, it is up to the telecom industry to show the positive implications of a European 5G network to convince EU governments of the benefits that becoming a market leader would bring.
"If we take the view that we will use 5G to improve the NHS, improve transportation, security and we don't ban drones, that's an amazing opportunity to create more jobs with such technologies and services," he said.
EU efforts
Back in 2013, the EU promised €700 million for 5G research to "secure Europe's leadership" in areas of the telecommunications industry where it is already strong, like "smart cities, e-health, intelligent transport, education or entertainment & media".
It also made efforts to bridge regional gaps concerning different countries' radio spectrums — a key box to tick in the creation of high-speed networks.
Despite this, tough EU rules governing competition have seen providers that offer country-wide networks being blocked from expanding further than a national level.
The WMC will no doubt be used by industry leaders, like Suri and Colao, to raise questions as to why Europe's good intentions on 5G networks have not yet translated into reality.