St Petersburg metro attack: 'Bomb' found in police raid
Comments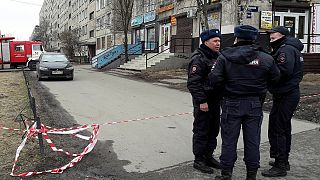 Authorities in St Petersburg say they have detained several suspects and made an explosive device safe inside an apartment block in the city.
Police said the arrests were connected to Monday's metro bomb attack.
Residents were forced to evacuate with one woman reported to have been told by police that the flats were mined.
The device found, is said to have been the same type used in Monday's metro bombing.
St Petersburg is still reeling from the attack, which killed 14 people and injured 50.
On Wednesday, police in the city made a number of arrests during a series of raids.
A Kyrgyz-born Russian citizen is suspected of carrying out Monday's suicide bombing and the authorities are continuing to look into whether he had any accomplices or not.
Russia's state investigative committee, which
has sweeping powers, said it has identified several people of central Asian origin who had been in contact with the principle suspect behind the metro bombing.