A new era for Greece: Alexis Tsipras is sworn in as prime minister
Comments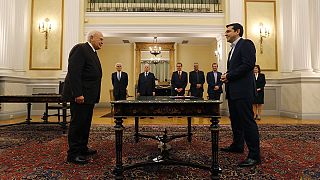 "An era of national humiliation is over," said Alexis Tsipras, the self-proclaimed champion of hope for ordinary Greeks.
An era of national humiliation is over.
The leader of the triumphant left-wing Syriza party has been sworn in as Prime Minister of Greece at the presidential palace in Athens.
A known atheist, Tsipras asked for the usual ceremony to be amended slightly. As such, he did not take an oath on the Bible.
Syriza will form what may seem an unlikely coalition with the right-wing Independent Greeks.
But, although on opposite sides of the political spectrum, the parties are united in their hatred of the EU/IMF bailout programme.
Following the Athens ceremony, Tsipras is believed to have gone to the parliament building to do a handover with outgoing Prime Minister Antonis Samaras.