Le Pen criticises France's decision to halt Mistral warship sale to Russia
Comments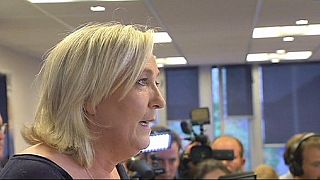 Marine Le Pen has denounced the decision by France to put on hold the delivery of two Mistral helicopter carriers to Russia because of Moscow's actions in eastern Ukraine.
Le Pen said the decision showed that France was failing to stand up for itself and was being submissive in the face of American diplomacy.
"This decision is very serious, first because it goes against the interests of the country," said Marine Le Pen on RTL.
A refusal to deliver the two ships, the sale of which amounts to €1.2bn, means France would have to compensate Moscow.
The president of the National Front has hit out at the "huge cost" for employment and taxpayers, arguing that the fines could reach up to €10bn.
Four hundred Russian soldiers have been training to operate the carriers since the end of June in shipyards at Saint-Nazaire. Delivery had been due to begin in October. ​