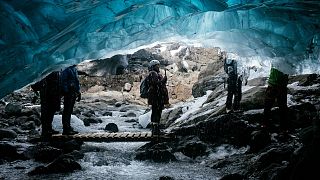 -
Copyright

Hans Lucas/REUTERS
An incredible natural phenomenon has got tourists sliding by their dozens into deepest Iceland.
The country's 'ice caves' are a sight to behold; an almost unnaturally pure blue when you're inside them.
They are formed when rain and meltwater run off glaciers. In summer, when the glacier recedes, this frozen landscape alters and new caves appear come winter.
But climate change is shrinking Iceland's glaciers faster than they can recover, threatening the existence of these extraordinary caves.
How is climate change endangering Iceland's caves?
"There is a massive melting of the glaciers. They are melting like there is no tomorrow," says travel guide Reynir Arnarson.
"Some claim that within 150 years there will be no more glaciers in Iceland. The change over that time frame is huge."
Already the glaciers are melting so fast that new caves have to be found every year, and it is quite a challenge to keep them from being overcrowded with tourists.
Speaking from Breiðamerkurjökull glacier in Vatnajökull National Park, around 380 kilometres east of Reykjavik, Arnarson describes how popular the ice cave trips are.
"We can be here in a group, 300, 350, 400 people at once if all trips are full," he says.
Unless more is done to halt global warming, tourist demand may soon outstrip nature's supply.
Though it adds an element of precarity to the trips, visitors in the video have a more immediate concern on their mind.
At the 'Black Diamond' ice cave, they are hesitant about sliding into the "gorge" - a narrow hole down into the ice.
How can you see the ice caves?
You can only see the ice caves in winter, from November until March - or April at a push.
Tourists can travel by mountain jeep from Jökulsárlón, on the edge of the national park.
Watch the video above to see the spectacular interior of the Black Diamond.