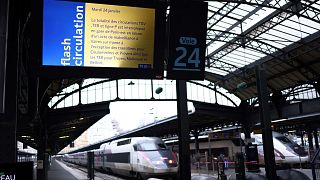 Copyright

Thomas SAMSON / AFP
-
Paris's busy Gare de l'Est station has been forced to cancel all trains today after a fire broke out at a signal point.
The blaze - which officials believe was deliberately lit - sparked around 8:30 am, at the peak of rush hour.
Officials initially hoped to resume services by 10 am, but have since confirmed that no trains will run out of Gare de l'Est for the remainder of Tuesday.
Tens of thousands of passengers will have their travel plans disrupted by the traffic shutdown. About 41 million people used the Gare de l'Est in 2019, according to SNCF data.
What happened at Gare de l'Est?
The fire - which damaged around 50 cables - began under an area of track in an eastern Paris suburb.
It was started deliberately, a spokeswoman for rail operator SNCF told AFP.
"According to early findings, we can say this was a fire set deliberately on the electrical cables," she said.
The rail operator has filed a legal complaint over the vandalism.
Speaking on radio, France's transport minister Clément Beaune described the arson as a "malicious act."
Which trains will be cancelled at Gare de l'Est?
No train services will run out of Gare de l'Est today. This will include:
Suburban trains running on the Transilien P line. SCNF has advised Transilien passengers to take the replacement buses and the RER E and RER A suburban train lines.
Regional TER trains
Long distance TGV trains to Nancy, Colmar and Reims and Germany.
Travellers should check with their operator before setting out from home. If your train is cancelled, you should be entitled to a refund or an exchange to a later ticket in the same class.