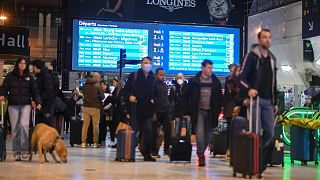 -
Copyright

Photo by Lionel Urman/ABACAPRESS.COM
By Euronews Travel with AFP
Workers in almost every industry are striking at the moment and travel isn't immune.
As the cost of living crisis and rising inflation continue to bite, many are taking action over pay and working conditions.
Here are all of the European transport strikes announced so far for 2023, including strikes throughout February in Spain.
Bear in mind that negotiations are ongoing so if agreements are reached, strikes are cancelled, often at the last minute.
French unions want to cause "zero transport" havoc
Prime Minister Elizabeth Borne recently announced that people in France will have to work two years longer, until the age of at least 64, before retiring.
In response, all unions called for a nationwide day of strikes and protests on 19 January. Local and national transport across the country was severely disrupted and more than 1 million took parts in demonstrations.
France's CGT union, which represents transport workers, has called for refinery workers and other staff in the petrol sector to strike for 48 hours from 6 February. Similar strikes in 2022 saw petrol stations run dry and drivers waiting hours to fill up their cars.
How will trains and planes be affected during 7 and 11 February strikes in France?
Mass strikes are being encouraged by French unions on Tuesday 7 and Saturday 11 February. The worst disruption is likely to be on 7 February and could spill into 8 February.
Public transport disruption in France on 7 February
Only half of France's high-speed TGV trains will run normally with many cancellations. The level of disruption will depend on geographical location. Two out of five TGV trains are expected to run in the north, half will run in the east, one in three will run in the west, and two in five will run in the south east.
Regional TER trains will run three out of 10 trains on average with services disrupted across the whole of France.
International rail services will also be impacted. The Eurostar will run three trains out of four. The full list of cancelled Eurostar trains is available here.
Lyria (which connects France to Switzerland) will see about half of services run as scheduled. Thalys services will be "slightly disrupted".
The Metro, and the roads in general, in Paris are likely to be severely affected. Buses will experience slight disruption and tramline services will run as normal.
USACcgt, the leading civil aviation union, has called on "all DGAC (French civil aviation authority) and ENAC (National school of civil aviation) staff to go on strike en masse and take part in demonstrations."
France's Civil Aviation Authority has asked the Paris-Orly airport to cancel one out of five flights. In previous strikes, other airports have not been affected.
On 19 February, staff from France's national railway company SNCF will be on strike. This is likely to cause widespread disruption.
Transport strikes in Italy in February
They include strikes by staff at Italy's primary train operator Trenitalia throughout the month. You can check the dates of local action on the Italian Transport Ministry's website here.
Public transport staff will take part in a national 24-hour strike on 17 February. Likely disruption is yet to be confirmed but this article will be updated if we receive more information.
Fights to and from Spain likely to be delayed or cancelled throughout February
Spanish workers' unions USCA and CCOO have called on 162 air traffic controllers to organise walkouts in February. These would affect 28.5 percent of all air traffic in Spain.
The walkouts will be all day every Monday from 6-27 February.
The airports affected by the strikes will be:
A Coruña

Alicante-Elche

Castellón

Cuatro Vientos (Madrid)

El Hierro

Fuerteventura

Ibiza

Jerez

Lanzarote

La Palma

Lleida

Murcia

Sabadell

Seville

Valencia

Vigo
How will February flights in Spain be affected the strikes?
Spain's Ministry of Transport has set minimum services depending on the type of route. For instance, emergency flights or those carrying perishable goods will still have to fly.
But if a route is possible by road in less than 5 hours, there's less chance a flight will run.
British airline Jet2 issued a notice to passengers, saying, "We wanted to let you know that industrial strike action is taking Monday 6th February, supported by the air traffic service in Spain. This means that If you're affected, rest assured we'll try to keep any disruption to a minimum."
They advised customers to keep an eye on their website for updates and arrive at the airport 2 hours ahead of their flight.
Why are flight controllers striking in Spain?
The USCA and CCOO unions have asked for a 5.5 percent salary increase but the proposal offered by their employers, which is 2 percent in 2023 and 2.5 percent in 2024, is "very far from their demands".
The stoppages have been called due to "the failure of the negotiations".
February rail strike in Portugal
On 9 February, Portugal's railway unions will be striking over poor pay.  More details of likely disruption will be added here if we receive them.
What should you do if your train or plane is cancelled?
If you are travelling on one of the strike dates, it is best contact the train company, airline or third-party seller that you booked with as soon as possible to ask if your route will be affected.
If it will be affected, they are obliged to offer you an alternative route, a change of date or a refund.
For full details on your consumer rights as a traveller, read this article.