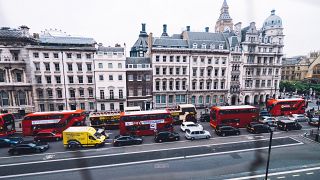 -
Copyright

Jay Wennington
Bus fares in many areas of England will now cost no more than £2 (€2.26).
The government-backed scheme aims to encourage people to choose public transport over private vehicles.
Passengers could pay as little as a third of the usual ticket price and most major operators have signed up for the scheme.
The initiative is expected to curb emissions by saving as many as two million car journeys.
When will England's £2 bus fares be introduced?
England's £2 bus fares came into effect earlier this week, capping the price for single tickets on most of the country's services.
Dubbed 'Get around for £2', the campaign hopes to encourage people to use more public transport by making it cheaper.
The average national fare is £2.80 (€3.16) so travellers can save around 30 per cent on most routes or up to 87 per cent on some rural services.
Over 130 bus operators are participating in the initiative, including National Express and Stagecoach.
"Travelling for £2 on the bus both helps customers facing rising cost challenges and try a new travel option," Graham Vidler, chief executive of the Confederation of Passenger Transport representing bus operators, told the Guardian.
The £2 fare limit was first introduced in autumn last year across Greater Manchester, Liverpool and West Yorkshire while single tickets on buses in London cost £1.65 (€1.86).
The 'Get around for £2' scheme, funded by a £60 million (€67 million) government grant, will continue until the end of March.
Discount bus fares could prevent two million car journeys
The Department for Transport has hailed the scheme as a way to help the industry recover following the pandemic.
It is expected to help cut emissions across the country too.
"The scheme will also take 2 million car journeys off the road and it's fantastic to see so many bus operators signing up," MP Richard Holden said.
While green activists have praised the scheme, it still lags behind some of the more ambitious measures across Europe.
In Spain, the government introduced free rail travel on most short and medium journeys last year. The scheme has just been extended to intercity bus services too.
Prime Minister Pedro Sánchez said the scheme was instrumental in helping people out during the cost of living crisis.
Germany has launched a nationwide public transport ticket that costs €49 a month.
Germany had previously introduced a €9 public transport pass last summer. Over the three months offer period, 52 million tickets were purchased.
The Association of German Transport Companies estimated that roughly 1.8 million tons of CO2 were spared while the scheme was valid - a reduction equivalent to planting 90 million trees.