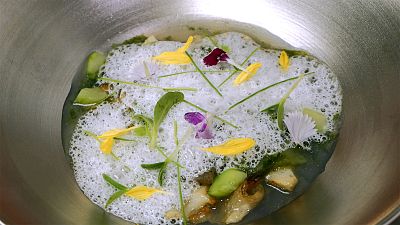 Chef Thierry Voisin's Konjac and Sazae recipe
Thierry Voisin is a French Michelin-starred chef (of the Les Saisons restaurant in Tokyo). He has created a dish based on konjac - a healthy root-vegetable - that is very popular in Japan.
Why not try this delicious recipe - bringing together land and sea - at home?
Ingredients for 4 persons
120 grams of konjac
2 pieces of Sazae
1 piece of Hilami lemon (citrus depressa)
20 cl of shellfish stock
30 grams of Wakame Purée
A few decorative flowers
Menegi (green onion bud)
Preparation
1. Chop the konjac and the sazae meat
2. Sauté the konjac and the sazae for 30 seconds with olive oil, salt and pepper
3. Heat the shellfish stock and add the wakame purée
4. Emulsify the hilami lemon juice
Presentation
Plate the konjac and sazae in a shallow dish
Pour some shellfish stock
Add the hilami lemon mousse
Cover with some menegi and flowers