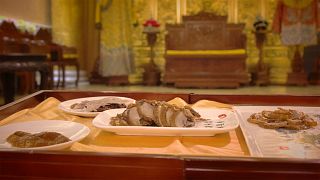 Peking duck was once a dish reserved for the Imperial family. One must-visit restaurant, Quanjude, was founded in 1864 during the Qing dynasty, and its roast duck is one of the most famous in the world.
Quanjude literally means: "perfection, union and virtue of the supreme".
Everyone who comes to eat here receives a certificate with the number of the duck they are going to eat, a pretty unusual tourist souvenir.
To get the duck crunchy on the outside and juicy on the inside, it must be roasted for 50 minutes in an open oven, along with peach and pear tree logs, which add aroma to the dish.
"The most important part of the cooking is the roasting process in the oven. You can get 90 slices from one duck. And the traditional way to eat it is wrapped in a pancake, with leeks and its sauce," says Quanjude's PR & Marketing manager Gu Hong. He adds that the roasting process is not easy to get right.
The chef must have the expertise to evaluate the times and the temperature. He must also control the wood in the oven. There are two ways to cook it: in a closed own and in an open one, like in Quanjude. In this case, (open oven), the flames are higher. It needs 50 minutes to be cooked properly. Although today 90 slices can be obtained from one bird, in the past it was 108. The traditional way of eating it is putting 3 or four slices in a pancake with vegetables and sauce.
Here the lacquered duck is presented in 400 different ways and about 5000 meals are served... every day.