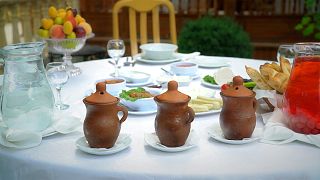 Piti is a traditional and delicious dish from the town of Sheki, in Azerbaijan.
It's a mix of lamb meat, cooked with chick peas, chestnuts and fat. Everything is cooked in a ceramic pot. Lamb meat is the base of many meals, in Azerbaijani cuisine. It can be cooked in a variety of ways and every province or region has its own recipe.
Piti is a specialty of Sheki, an ancient city on the Silk Route, in Azerbaijan. It comprises ingredients such as lamb, saffron and local spices.
Once the dish is on the table there's still work to do. The broth must be poured into a separate dish. Then some crushed barberry is sprinkled over it.
Zamir Salahov, owner of Cennet Bagi Restaurant, says: "The piti is one of the most ancient specialties of Sheki. It was created by local peasants because it allowed them to eat as much as they wanted. Nowadays everyone loves it."
Finally, the contents of the ceramic pot have to be mashed and mixed before you can enjoy this culinary delight.