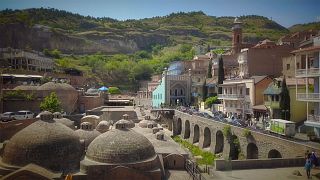 In Georgia's capital city Tbilisi modernity and ancient history are separated by just a few meters. Walking through the city centre is an experience made of contrasts and beautiful discoveries in a town which has been at the crossroads of Europe and Asia for centuries.
The cohabitation between history and modernity is perhaps best illustrated by the Peace Bridge that connects the newer parts of the capital to the ancient ones.
According to legend, in the fifth century, King Vakhtang Gorgasalince founded the future capital of united Georgia during a horse hunt. Abanotubani is the place where the royal falcon fell, leading to the discovery of hot springs that nowadays are public bathhouses that use the sulphurous waters.
« It is exactly in this place that king Vaktang found his falcon boiled in a hot spring. He put his hand into the water and discovered it was warm and he said: 'I will found a city here and we will name it Tbilisi, which means the warm city,» explains Vlasi Vatsadze a local tourist guide.
Much of the Old town was restored in 2009. The "New Life for Old Tbilisi" project has rehabilitated the historical district with its pastel-coloured houses and monuments.