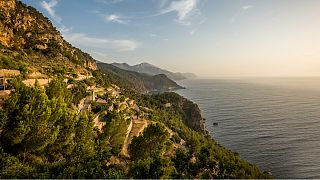 Mindfulness in nature, wild fitness, all-day yoga, this is our round-up of Spanish retreats to experience this season. Namasté.
Conscious breathing in Lanzarote
**Breath Guru**'s retreat is located in a rural location in the most easterly part of the Canary Islands. This luxury sanctuary is a villa that only accommodates 4 guests at a time to ensure maximum relaxation (and learning). Daily 1-1 breath sessions with Alan Dolan - the owner and guru - takes place in the complete privacy of a therapy room and can be coupled with massage, personal training, or even volcano climbing. The rest of the day is spent sunbathing on the local beach - Famara - and enjoying freshly made vegetarian meals. From 1187 euros.
Beach yoga and pilates in Fuerteventura
Wake up each morning and salute to the sun as it rises over the ocean on Waikiki beach in Corralejo, Fuerteventura. Azul Fit, one of the very few year-round yoga retreats in the world (starting every Saturday), is celebrating its 10 years anniversary this year with a special 7 days festival from 7th to 14th July. Experience shalla, restorative and flow yoga, guided meditation and pilates for yogis from morning until the evening whilst sampling vegan meals cooked by chef Jo Dombernowsky, head nutritionist and author of Truly Healthy, Truly Delicious. From 700 euros.
Swimming and hiking in the foothills of the Pyrenees
This 11th-century Catalan country house located within easy reach of Barcelona is the newest addition to In:spa's portfolio. La Vella Farga is a cluster of restored stone buildings offering a 360 degree panoramic views over the mountains from its outdoor heated pool. Next September and October it will host respectively 7 and 5 days all inclusive retreats including twice daily yoga, fitness classes, personal training session, nutrition consultation, massage and guided hikes suitable for all levels organized by a team of specialists from London. From 1935 euros.
Fitness and cooking in Menorca
Set on the central south coast of Menorca, a UNESCO protected Biosphere Reserve since 1993, the Wildfitness retreat is quite secluded and to walking distances of towns Santo Tomas and Es Migjorn Gran. Each day is packed with "wild" exercises such as games and play in nature mimicking our ancestors' daily challenges like running, jumping, climbing, lifting, hanging, carrying, combat and crawling, to name a few. Relaxing and restoring body and mind is also an important part of the programme and the group is invited to take part in journaling and stargazing activities. From 1482 euros.