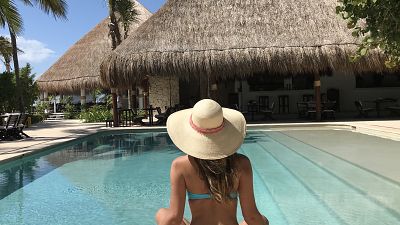 Viva Mexico!
Although I have been coming to Cancun for the last 20 years, I still hadn't experienced the famous Tulum beach, located just an hour drive from the busy modern Yucatán airport. I figured it was time to check it out.
The Mayan Riviera is home to the second largest coral reef system in the world, boasting abundant wildlife on land, within lagoons, cenotes and under the crystal turquoise blue waters. You can see a wide variety of creatures, including parrots, crocodiles, manatees, iguanas and more.
I've mostly heard of Tulum as a party destination but I assure you, its other side offers a relaxed hippie vibe, health-conscious foods and holistic spa options, setting the scene for the perfect go-with-the-flow bohemian lifestyle. You can't help but adapt to the slower pace and follow your senses, especially if you have an inquisitive nature.
A Hotel
Rest and relax at the marvellous "Esencia" resort which was once the personal home of an Italian Duchess. Only 20 minutes from Tulum, it's the ideal spot to get away from it all and relax in a secret paradise.
As you stroll through the lush palm gardens, you may see peacocks and iguanas wandering free. Explore the two large pools along the Palapas and the turtle-filled fresh-water cenote, bathed in the hot sunshine of the Quintana Roo region.
Cancun offers a faster city-life vibe, while the beaches morph into jungles and miles of white powdery sand as you drive south towards Mayakoba, passing Playa del Carmen to finally reach Tulum.
You can play croquet on the Duchess's old lawn or practice yoga at 8 am in the wood-inspired open pavilion filled with large, white hammocks.
Attention to detail and design is evident. Experiencing the most superb dedicated staff and in general, having phenomenal service from the driver was a pleasant surprise. Service is impeccable and the client is King here!
Be Tulum hotel offers luxury yet more hippie island camping style rooms and villas, set in the heart of Tulum's centre. Entering the palms maze towards the beach, I find a local band playing chill live music during one of the most delicious lunches I had my entire trip! The lobster tacos and guacamole will blow your taste buds. Do stop in here - even if you don't stay.
A Sight
The Mayan site of Tulum is set on one of the most gorgeous little cliffs overlooking a breathtaking ocean.
An older ruin, 'Coba' dates from around 600 BC and is located 40 minutes away. From the top of the structure you can catch a glimpse of the endless jungle.
'Dos Ojos', is one of many cenotes, or fresh-water sinkholes that puncture the landscape. it has caverns underwater and is home to a colony of bats. The 'eyes' or pools are connected with secret tunnels underground that you can also safely dive while following a passage of yellow ribbons that point you on your way from one end to another.
'Manatee' cenote has direct access to the ocean but be wary of the local-crocodile, described by locals as a 'friendly female'. I admittedly didn't visit that one, as I was too afraid to meet her!
A Restaurant
There are many choices for lunch, depending on your mood. Vegan, raw and matcha coffee shops are plentiful here. Try the local fresh guacamole. Also, slowly roasted pork like 'Cochinita Pibil' and seafood tacos are a must. Succulent grilled meats accompanied by refried beans, rice and vegetables are on most every menu. It's all about the dining experience and the simple yet perfected cuisine. Try a romantic dinner at Azulik, a hotel set above the jungle.If you're brave, venture across the open-air suspension bridge which is the walkway to the cool rooftop and sushi bar.
Hertwood and Arca in town are some favourites of mine. Try the Margarita while swinging in your bar seat at 'Mur Mur.'
A Purchase
Mexicans are well known for their craftsmanship. Jewelry, leather, tunicas, cotton wraps, dresses and more will be on display at the local marketplaces. Or, you can find get yourself a bespoke hat. These unique, handcrafted items will be a very special gift for a loved one back home, or a treat for yourself to remember your trip.
By Natalie Lefevre
Please follow me on Instagram : @island_natalie