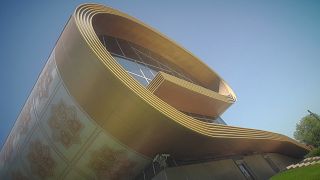 When Azerbaijan's carpet museum opened in Baku in 1967 it was the world's first museum of its kind and and now, fifty years later, it has become a great repository of Azerbaijani culture.
Its collection holds more than ten thousand items, mostly carpets, but also embroideries, costumes, copper artworks, jewellery art, as well as contemporary works of glass, wood, and felt.
Welcome to #Carpet museum #Baku#Azerbaijan#art#history#culture#handmade#architecture#travel#museumdaypic.twitter.com/WKstZmjrmi

— Golden Rock (@ecotraveling1) 18 de mayo de 2017
Key facts about Azerbaijan
Azerbaijan is a country in the South Caucasus region, between Southwest Asia and Southeastern Europe.
The Azerbaijan Republic declared its independence in 1918 before being incorporated into the Soviet Union in 1920. The modern republic declared its independence in 1991.
Its capital city is Baku
With a population of nearly 10 million, it covers an area of 86,600 square kilometres.
Carpets are found in almost every home in Azerbaijan were they adorn walls, sofas, beds and even tables and chairs. And, of course, floors.
So integral are carpets to the culture of the Caucasus nation that in 2010 UNESCO, the cultural arm of the UN, recognised Azerbaijan's carpet weaving as part of humanity's common cultural heritage.
"Azerbaijan was famous for its carpets for centuries long before it became famous for its oil," Firahnaz Musayeva, the head of the museum's internal relations and innovation department told Euronews.
#carpet#museum#baku#Learning with my crew euronews</a> <a href="https://twitter.com/hashtag/postcards?src=hash">#postcards</a> <a href="https://t.co/cjG6iyCq4z">pic.twitter.com/cjG6iyCq4z</a></p>— Aurora Velez (goizlyon) 8 de julio de 2017
And the tradition goes on. Contemporary carpets depict Azerbaijan's oil wealth and are more like paintings, drawing inspiration from famous monuments, such as the Eiffel Tower in Paris, and even space.
#Azerbaijan The land of fire also in #carpet. #Oil is linked to the #history & #art of this country pic.twitter.com/w874NHtjVn

— Aurora Velez (@goizlyon) 8 de julio de 2017
Magic carpets: the art of Faig Ahmed's melted and pixellated rugs https://t.co/EApW1R6Wzk#Baku#Azerbaijan#carpet

— Dom Thomas (@DomThomas8) 17 de noviembre de 2016