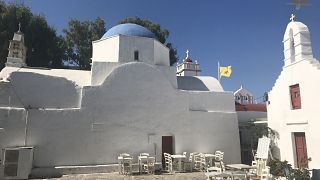 Flying into the island of Mykonos is an experience in itself as the plane overflies the myriad of spots of land scattered in the turquoise waters. Beautiful beaches abound and the only thing to worry about is the mid-August winds that can scatter sand in your face.
A sight
The Windmills of Mykonos are visible from most central points in town but a close-up visit to the four lined up on the water's edge is a must! Once the island boasted 57 mills to grind its barley crop although only 12 remain today with fewer still in working order. In fact the island has few other landmarks – barring the local museum – but it makes up for that with its natural assets, especially the breathtaking sunsets from the pool at Hotel Cavo Tago.
A hotel
I loved the Semeli hotel, a well priced charming little gem perfectly located in town so you can walk to most evening locations and avoid a taxi. The staff are friendly, you have 2 pools if you prefer privacy, the breakfast buffet is large and the food delicious. You can spend time at your bar or walk over to the sister resort, the Belvedere, next door that hosts a Nobu restaurant and IN bar. Be sure to organize your transportation as there are very few taxis, private car drivers and beach lunch spots can be further than anticipated. Some like the option of renting a quad or moped.
A restaurant
There are many amazing lunch beach spots, amazing hotels or local venues to grab a bite with or without music depending on your mood of the day. Here you can order Mezze polio consisting of appetizer portions of dips, salads and meats/ seafood. I loved starting my day with one of the range of coffees that Life Cafe has to offer in abundance near the bus station in town. Niko's place is casual and has great salads or meat only. Nice n Easy offers traditional foods with healthy influence such as gluten free items. Nammos is a day experience you must experience once if you like music and party vibes. Scorpios is a fave for lunch or evening with chill music and some evening DJ parties. The food is excellent but the demand is equally high.
A purchase
Greece loves the evil eye in any form from jewellery to wall hangings. It is said to protect you from anyone thinking or saying negative thoughts towards you. It's a great affordable gift for loved ones and a colourful memory that children love to play with. This island had many handmade wood carvings, bowls and sandal shops to visit if you prefer something more utilitarian.
By Natalie Lefevre