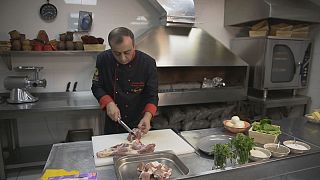 Recipe for Dolma, as recommended by chef Elmin Sharifov, from Baku's Ay Qonshu restaurant.
Ingredients:
Lamb – 400 g
Grape leaves – 300 g
Rice – 70 g
Coriander leaves – 30 g
Mint leaves – 30 g
Onion – 150 g
Water – 1.5 cups
Salt and pepper to taste
Instructions:
Run the lamb and onions through a mincer, add rice, chopped leaves, salt and pepper, then mix by hand.
Wrap small rolls of meat into the grape leaves and place into a casserole dish.
Add water and place on small fire for about one hour.