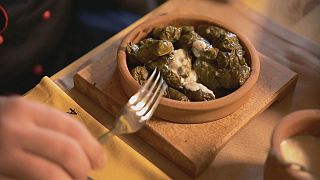 In this episode of Taste Azerbaijan, Euronews correspondent Claudio Rosmino meets an expert in Azeri cuisine, chef Elmin Sharifov from Ay Qonshu restaurant in Baku.
Chef Elmin teaches Claudio about an Azeri dish called Dolma, a roll of meat, rice, spices and vine leaves, one of the country's specialties.
We start our journey at a traditional market in Baku with chef Elmin who helps choose the best ingredients.
'Dolma' means 'stuffed' in the Azeri language. To properly roll and stuff your dish, grape leaves are essential.
There are many varieties of Dolma as the stuffing can vary according the seasons. In summer you can use vegetables like peppers, tomatoes, aubergines and cucumbers.
Dolma is the meal that nobody here can imagine living without.
"Growing up at home, we often cooked our national dish, the Dolma," Elmin explained. "As kids we wanted to learn how to make it and our families taught us. I remember we wanted to roll it on our own."
Cooking Dolma – herbs are key
In general the preparation for making Dolma is quite easy, but you need skill to roll! The grape leaves are also the healthiest ingredient, full of vitamin C.
"The Dolma you see here is stuffed with lamb, but I would say that herbs are key," said Elmin. "Mint is a must, with coriander. If you forget one of these, it won't taste the same."
According to our expert, the dish is best served with fresh yogurt.
"Well, generally speaking we have got two types of Dolma, with meat and/or vegetables", added Elmin. "We always cook different kinds."
If you would like to cook Dolma for yourself, here is the recipe Elmin shared with Claudio. Watch the video tutorial here!
---
Ingredients:
Lamb – 400 g
Grape leaves – 300 g
Rice – 70 g
Coriander leaves – 30 g
Mint leaves – 30 g
Onion – 150 g
Water – 1.5 cups
Salt and pepper to taste
Instructions:
Run the lamb and onions through a mincer, add rice, chopped leaves, salt and pepper, then mix by hand.
Wrap small rolls of meat into the grape leaves and place into a casserole dish.
Add water and place on small fire for about one hour.