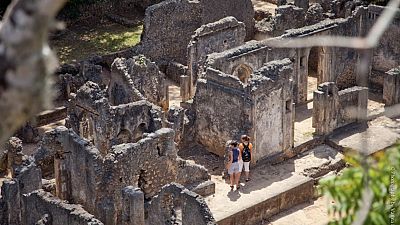 Whatever you want to do, you can do it in Africa and as the continent develops as a business and tourist destination, more and more people are. Lured by the prospect of breeding sea turtles, dolphins and unspoiled coastline, I headed for a reef and beach holiday in this small town near Mombasa.
A sight
Arabic conquerors over 1000 years ago, this quiet serene and secluded spot in the town of Gede looks like Mayan temple. The Temple Point name derives from an old temple at the resorts beach entrance with many options for nature lovers starting with a bay filled with flamingos, a lagoon, monkeys, bird watching, butterfly and snake farms so be sure to bring the kids along.
A hotel
This marvelous secret hotel provides seclusion if you prefer to read your book in solice. With 20 Chalets this original Sultan Palace was turned into the Temple Point resort. The drive from Mombasa to the hotel goes by fast. 2.5. Once you see it's bungalows, you realize the prices are extremely reasonable and fair prices. What I love is it has the history of a town nearby if you feel like seeing the locals or tribes, you can venture out for a day safari nearby, go fishing or enjoy the crystal clear unspoilt waters since you're now where near the effects of a big city.
A restaurant
There are a variety of options if you want to stay or drive into Watamu which is 7km from the Temple Resort, a very famous tourist place. There are bars and clubs if you like to dance. A Mangrove restaurant sits in Mida Creek, Watamu and is a very famous middle to upmarket place. I'm told Gloria v. Tourn & Taxis has a villa at this beach called Tourtle Bay.
A purchase
What better place to buy true African art ! African figures, sculptures, ceramics and even watch local artisans while making them.
By Natalie Lefevre