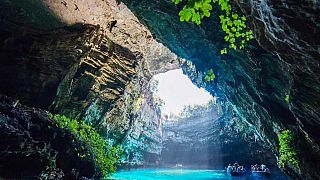 It was only after I got the invite from a friend that I realised this island is where they filmed the movie "Captain Corelli's Mandolin." Kefalonia is the biggest Ionian island with ideal weather and there are direct flights from Athens or regular ferries to take you there. It epitomises the words of Philip James Bailey that "God's art is nature."
A sight
I could spend hours talking about Kefalonia's natural sights, its amazing beauty, but my favourite is the Melissani cave, located northwest of the village of Sami. On the outside it is surrounded by forests and inside the magnificent rocky cave is the entrance to a fairytale world comprised of an underground lake with emerald crystal waters. Shaped in the form of a letter B, the two halls separated by an island are filled with a mixture of fresh- and saltwater.
A hotel
I stayed at Sunshine Studios in the village of Karavados which is set on a beautiful hillside overlooking the Ionian sea and the surrounding villages. Well priced, great hospitality and spectacular views of sunrise and sunset make this magical place an ideal stopover anyone looking to be stunned by the beauty of the island. Twelve km from the capital Argostoli and 1.5km from the St. Thomas beach it's the perfect opportunity to recharge your batteries!
A restaurant
Hungry ? There is a Premier restaurant in Argostoli. After discussing with the cheerful staff and owner, I discovered more about their fresh seafood and the local meat. The secret – their Kefallonian extra virgin olive oil, local feta cheese and bread which is baked and prepared daily in their bakery.
A purchase
You must visit the area of Lithostroto for an afternoon socializing and shopping. It is the main shopping street in Argostoli. You can find everything starting from kefalonian traditional products like Robola wine, local souvenirs, original fashion stores and hand crafted jewelry. Don't miss out on a bottle of local olive oil either.