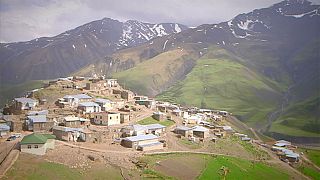 Our postcard this week is from the region of Guba in the northeast of Azerbaijan and the stunning landscape around the village of Khinalig.
We can let go of the thoughts that bother us in the city, enjoy the beauty of the surrounding nature and go on great walks
Some key facts about Azerbaijan:
Largest country in the South Caucasus
Capital is Baku; second city is Ganja
Located on Caspian Sea's western shore
Population is about 9.6 million people
Area is 86,600 square kilometres
This is one of the highest and most remote villages in the Caucasus and the inhabitants here even have their own language.
And part of the magic is that sense of isolation.
Euronews' Seamus Kearney reported: "If you're looking for a place to really get away from it all this could be it, with breathtaking scenery all around Khinalig and the chance to do some serious hiking."
The scenic route to Khinalig from the city of Guba takes visitors up to more than 2,000 metres above sea level, providing impressive views at every turn.
Metleb Shikbabayev from the Guba Tourism Office told Postcards: "I love it here, even for short trips, because we can let go of the thoughts that bother us in the city, enjoy the beauty of the surrounding nature and go on great walks."
One of the oldest village in the world – #Khinalig#Azerbaijanpic.twitter.com/riIg0tdWlG

— NargizXelef (@NargizXelef) 20 April 2016