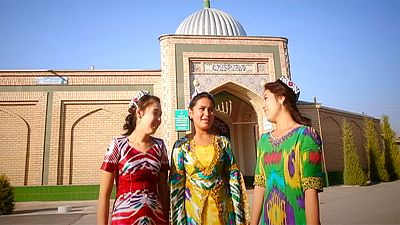 Our Postcard this week is from eastern Uzbekistan, where school children show off the silk made in the city of Margilan.
The technique used here in Margilan goes back more than 2,000 years
This was one of the most important stops on the ancient Silk Road, and the fabric made here is described as being among the best in Central Asia.
Key facts about Uzbekistan:
It's in Central Asia, with neighbours including Kazakhstan, Turkmenistan, Kyrgyzstan & Tajikistan
With a population of more than 30 million, the ex-Soviet republic became independent in 1991
The total land area is 425,400 km2, with plains covering about four fifths of the territory
The average winter temperature is -6 degrees celsius and in summer it rises above 32
Almost 80 percent of the population is Uzbek and the main religion is Muslim (88 percent)
Euronews' Seamus Kearney reported: "And when it comes to the actual making of the silk products here it's not industrial machines but workshops where the tradition of working by hand is passed on through the generations.
Silkworm cocoons from mulberry trees are used here, with everything hand spun, and the individual threads are dyed before being weaved on traditional looms.
Mokhinur Siddiqova, a Margilan guide, told Postcards: "The technique used here in Margilan goes back more than 2,000 years, and this is the only place in Uzbekistan where the silk is hand-spun."
It is easy to organise a visit to the factories famous for their silk products, especially the unique colourful scarves and clothing.