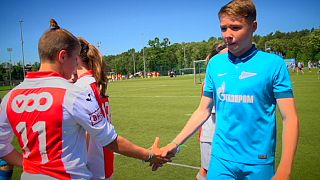 Last weekend, Berlin hosted the 3rd edition of 'Football For Friendship', the international forum organised by Gazprom, whose aim is to develop youth football and promote universal human values. This year the number of participating teams increased to 24 and for the first time two Asian teams were included – China and Japan.
We asked Vyacheslav Krupenkov, Senior Managing Director of Gazprom Germany how this project could be further improved in the future.
Vyacheslav Krupenkov: "I can't say what limits will be set, but we would like to attract more and more countries. And as Russia will be hosting the next World Cup in 2018, our dream would be that our participants would include representatives from each country competing in the World Cup.''
Tradition, fairplay, friendship and equality are some of the values upheld by the Forum. But what kind of message are the participants getting from the recent FIFA scandal?
Franz Beckenbauer: ''It's a difficult time. Football has a lot of negative headlines at the moment. I hope we're going to find a way through this and that things like this won't happen again. I'm sure a solution will be found, because football really is in a terrible state right now."
The 308 participants at the event in the German capital also got the chance to meet some players from European clubs, like Anatolij Tymoscuk and Julian Draxler.
Julian Draxler: ''I remember when I was young like these players here. I would have loved to have been in a competition like this. I think they're really enjoying it, and I'm enjoying watching them.''
The final of the street soccer tournament for 12 to 14-year-olds took place at the foot of the symbolic Brandenburg Gate with Rapid Wien beating Zurich 5-3. The Swiss goalkeeper was a girl, Elvira Herzog, because there are no gender limits at Football for Friendship.
Elvira Herzog: ''It's nothing new to me. I don't find it hard to play alongside men. I can see it might be difficult in other teams but in this one there is no problem and I hope I can continue playing with these guys for a long time in the tournament.''
For the first time the Nine Values Cup was introduced to the tournament. This is a trophy awarded for social and youth projects. It was won by FC Barcelona.
But what do the participants think of this unique experience? Chris Cener, a 14-year-old Austrian, and best player of the final, gave this final answer.
Chris Cener: "Good, good, excellent."