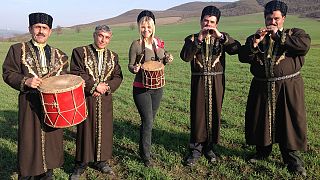 When we arrived at Nij the first thing which caught my attention was the wonderfully-braided fences made out of local trees. If I could paint I would do hundreds of paintings of those fences. Udis decorate them with pots, like their forefathers did. However, another past element of the braided fence decoration – the heads of the animals – seems to be totally forgotten. It does not mean that the Udis do not hunt anymore; on the contrary, hunting is major passion of local men.
Nij is a vast village; it spreads for 100 square kilometers. According to the local people it is almost impossible to take a nice general picture of the village because it is always covered by a mysterious fog if you look at it from the fields where we filmed the musicians. The day when we were filming the village was also covered by this magic white blanket. It took us a while to find a good spot to film a wide shot, but finally our courageous cameraman Elhan climbed the roof of the local school, and we got our perfect shot.
There is one interesting detail concerning the local musicians which I did not mention in my report. One of the musicians was playing an instrument which I took for a drum; apparently the name of this instrument is kyoss, and it's sound travels the distance of 20 kilometers !
The news about a marriage in the village also spread fast; neighbours come and help to cook and decorate the house. As you saw in the report I got a chance to shoot from the gun as well; of course I missed the onion, hidden in the tree. Frankly speaking I could barely see the target, which seemed to be an easy one for the young hunters.
By the way, when this gun is given to the groom, his mother puts a red ribbon on the weapon. It means that this gun should not be used at all, or at least should only be used during the marriage. I want to thank the happy couple Aleksandre and Dina for the invitation to their wedding and hope that one day their children will watch our report.