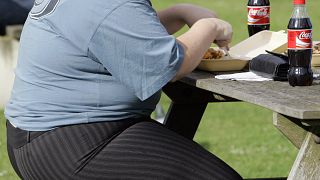 -
Copyright

Kirsty Wigglesworth/Copyright 2022 The AP. All rights reserved.
It's world obesity day and in Europe there's much to be worried about.
More than half of Europeans are overweight - with a Body mass Index equal to or greater than 25 and almost 20% of Europeans are obese - with a BMI of more than 30.
Despite various healthy eating and exercise campaigns, the rates continue to rise, with disastrous consequences for public health. 
European countries with high rates include Malta, Croatia and Hungary. Some countries are doing better than the average, such as Italy, Belgium and France.
In 20 years, the number of overweight people has doubled. Less active lifestyles coupled with calorie-rich food are partly to blame. These trends have been turbocharged by the pandemic.
"It has encouraged a sedentary lifestyle, physical inactivity, but also junk food. All of this has finally led to obesity increasing, especially among children," says Hélia Hakimi- Prévot, a health journalist.
Click on the video above to see more.