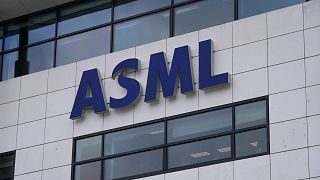 Computer chip equipment maker ASML says one of its former employees based in China stole information about its technology, amid rising tensions between China and the US over semiconductors and other advanced tech.
Chips are used to power everything from computers to weaponry - and the Dutch company is one of the biggest and most advanced producers of the tech that is crucial in their mass production.
ASML is especially well known for its lithography machines, which print patterns on silicon using lights.
"We have experienced unauthorised misappropriation of data relating to proprietary technology by a (now) former employee in China," the company said in its 2022 annual report.
"As a result of the security incident, certain export control regulations may have been violated. We are implementing additional remedial measures in light of this incident," it added.
However, ASML also said it does not "believe that the misappropriation is material to our business".
ASML didn't give any further details on the breach, just that it was under internal review.
US-China chip war
ASML is one of the market leaders in its field - and this breach fuels the ongoing rift between China and the West around controlling advanced technology.
In October last year, the US put measures in place that mean companies exporting chips to China using US tools would need special licences - regardless of where the chips themselves have been made.
More recently, Japan and the Netherlands have joined them, restricting sales of certain machinery to China, according to a report from Reuters.
This isn't the first time China has been accused of intellectual property infringement by ASML. In its 2021 annual report, the company said another business "was actively marketing products in China that could potentially infringe on" its intellectual property rights.
At the time, ASML advised it was monitoring the situation and was "ready to take legal action if appropriate".
Following this latest update from ASML, China's Semiconductor Industry Association has added that if the West continues to put such measures in place, "it will cause serious harm to the semiconductor industry in China, with detriment to the global economy".