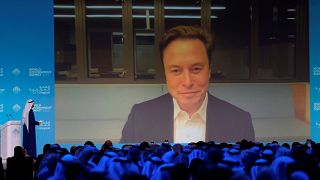 -
Copyright

Kamran Jebreili/AP
Elon Musk donated $1.95 billion (€1.82 billion) worth of Tesla shares to charity last year, according to a US regulatory filing.
The Securities and Exchange Commission's filing shows the Tesla, SpaceX and Twitter CEO donated around 11.6 million shares in the electric car company between August and December last year.
The filing did not say which organisations were recipients of the shares. Tesla did not immediately respond to an email seeking details on which charity or charities got the donations.
Analysts have said that Musk might benefit from gifting Tesla stock if he donated it to charity, since shares donated to charities do not have to pay capital gains tax, as they would if they were sold.
Musk signed the Giving Pledge in 2012, a commitment by some billionaires to give at least half their wealth to philanthropy in their lifetime or upon their death.
In 2001, he set up the Musk Foundation, offering grants for the "development of safe artificial intelligence to benefit humanity" among other causes, according to its website.
He donated about $5.74 billion (€5.35 billion) in 2021.
The 2022 donation of Tesla stock came amid his $44 billion (€41 billion) takeover of Twitter last year.
'Twitter is quite the rollercoaster'
His time as CEO has been turbulent, with the company seeing a large drop-off in advertisement revenue, mass layoffs and changes to the social media platform's verification system and algorithms.
Musk ran a Twitter poll in December last year on whether he should stand down as CEO, and after a majority of users voted for him to go, he claimed he would stand down once he had found someone "foolish enough" to take over the reins.
Speaking virtually at the World Government Summit in Dubai on Wednesday, Musk told attendees that "Twitter is certainly quite the rollercoaster".
"I'm guessing probably towards the end of this year would be good timing to find someone else to run the company," he said, adding that's when he expects the platform to be "in a stable position".
"I think I need to stabilise the organisation and just make sure it's in a financially healthy place and that the product roadmap is clearly laid out," he said.