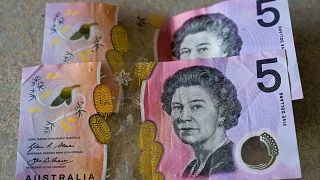 -
Copyright

Mark Baker/Copyright 2022 The AP. All rights reserved
King Charles III will not feature on new Australian bank notes.
The country's new $5 bill will feature an Indigenous design rather than King Charles III, the nation's central bank said on Thursday.
 The new king is still expected to appear on coins that currently bear the image of Queen Elizabeth II.
The $5 bill was Australia's only bank note that still featured an image of the monarch.
The bank said the decision followed a consultation with the center-left Labor Party government, which supported the change. However opponents say the move is politically motivated.
The British monarch is Australia's head of state. But like other former British colonies, Australia is discussing its constitutional ties to Britain.
Australia's Reserve Bank said the new $5 bill would feature a design to honour "the culture and history of the First Australians."
"The other side of the $5 banknote will continue to feature the Australian parliament," the bank said in a statement.
Treasurer Jim Chalmers said the change was a chance to strike a good balance.
"The monarch will still be on the coins, but the $5 note will say more about our history and our heritage and our country, and I see that as a good thing," he said.
Opposition leader Peter Dutton likened the move to changing the date of the national day, Australia Day.
"I know the silent majority don't agree with a lot of the woke nonsense that goes on but we've got to hear more from those people online," he told 2GB Radio.
Dutton said Prime Minister Anthony Albanese was central to the decision for the king not to appear on the note, urging him to "own up to it."
The bank plans to consult with Indigenous groups in designing the new $5 note, a process it expects will take several years before the new note goes public.
The face of King Charles III is expected to be seen on Australian coins later this year.
Currency in the UK began changing to the images of King Charles with the release of the 50p coin in December. It has Charles on the front of the coin while the back commemorates his mother.
Australians voted in a 1999 referendum proposed by a Labor government to maintain the British monarch as Australia's head of state.