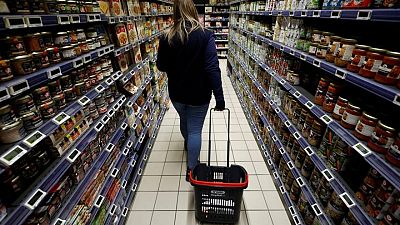 -
Copyright

Thomson Reuters 2023
PARIS -France's economy eked out growth of 0.1% in the fourth quarter of 2022, according to preliminary gross domestic product (GDP) figures released on Tuesday, helped by exports.
The growth of 0.1% marked a slowdown compared to economic growth of 0.2% in the third quarter. Nevertheless, the preliminary fourth quarter figures beat forecasts, with a Reuters poll having forecast a 0.0% figure for the quarter.
The preliminary French fourth quarter GDP figures also provided a positive contrast to Germany, the euro zone's biggest economy, after data on Monday showed that the German economy had unexpectedly shrunk in the fourth quarter.
For 2022 as a whole, the French economy grew by 2.6%, added the INSEE statistics office in its preliminary figures.
France, which is the euro zone's second-biggest economy behind Germany, has been grappling with the effects of rising energy prices which have affected global business and trade.
The Bank of France said in forecasts published in December that France's economic growth would fall to 0.3% in 2023 from 2.6% for 2022.