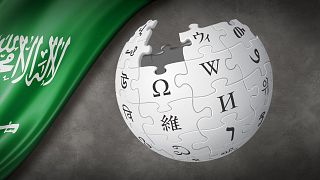 -
Copyright

Canva/Euronews
Saudi Arabian authorities have "infiltrated" Wikipedia and convicted two administrators in an attempt to control the site's editorial content, according to two non-governmental organisations (NGOs).
It comes weeks after a US court sentenced a former Twitter employee to three and a half years in prison for spying for Saudi officials.
Two organisations, Democracy for the Arab World Now (DAWN) and SMEX, based in Washington and Beirut respectively, said in a joint statement that "the Saudi Arabian government infiltrated Wikipedia by recruiting the organization's highest-ranked administrators in the country... to control information about the country and prosecuting those who contributed critical information about political detainees".
The NGOs said they had evidence of Wikipedia's penetration by the Saudi government based on interviews with sources close to the website and the imprisoned administrators.
According to the NGOs, two high-ranking Wikipedia administrators who had access to edit fully protected pages, Ossama Khalid and Ziyad al-Sofiani, were arrested in Saudi Arabia in September 2020, and sentenced to 32 and 8 years in prison respectively.
There was no immediate comment from the Saudi government, and they did not immediately respond to requests to comment from AFP.
The arrests and the infiltration of Wikipedia "shows a terrifying glimpse of how the Saudi government seeks to control the narrative and Wikipedia," the DAWN official told AFP.
'Conflicts of interest'
Sarah Leah Whitson, DAWN's Executive Director, also said the Saudi government's infiltration of Wikipedia demonstrated "not only its persistent use of spies inside international organisations but the dangers of attempting to produce independent content in the country".
DAWN was founded by Saudi journalist Jamal Khashoggi, whose murder in Turkey in 2018 was blamed by US intelligence on Saudi Arabia's Crown Prince Mohammed bin Salman, which Saudi authorities deny.
DAWN and Smex's statement weeks after Wikimedia announced the banning of 16 volunteers from its educational platforms who had "conflicts of interest" when editing pages on Wikipedia in the Middle East and North Africa region.
Wikimedia said it "was able to confirm that a number of users with close connections with external parties were editing the platform in a coordinated fashion to advance the aim of those parties".
"While we do not know exactly where they reside, the actions targeting volunteers, who may have been Saudi, were part of a much broader effort... across the region," Wikimedia said.