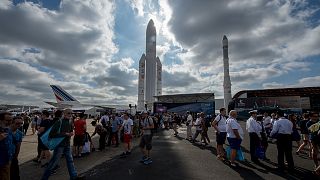 Europe's space sector was keen to show the world how agile it can be in the face of global competition for launch and satellite services at the Paris Air Show this year, another sign that the business of being in orbit is being increasingly commercialised.
Right down at the entry-level for access to space we heard from Italy's Avio a forecast rapid growth in 'cubesats' – the term used for mini-satellites ranging from 1 kilo to 100 kilos. The firm, based just south of Rome, makes the Vega series of rockets and is working with the European Space Agency, ESA, on a modular carbon fibre dispenser that can release clusters of cubesats into low Earth orbit.
Avio CEO Giulio Ranzo told Euronews:"We are experiencing literally a boom in the demand for small satellites to go to space." The reason – low cost means smaller companies, research institutions and universities now have a chance to get their experiments and tools into orbit, and in some cases can start building businesses around them.
Meanwhile ArianeGroup announced it has now carried out over 100 successful tests of its new Vinci engine, which will be mounted on the upper stage of the under-development Ariane 6 launcher. The engine can be stopped and re-started in space, making it more flexible, and capable of turning itself back down to Earth in order to keep key orbit zones free of old space hardware.
The Ariane 6 project still appears to be on time for its 2020 launch, and will offer that same agility that the space market now demands. The Ariane 64, for example, can do the heavy lifting of big science satellites, while the Ariane 62, with just two boosters (made by Avio), can service the lighter telecoms satellite market.
The Air Show is often the 'battleground' between Airbus and Boeing over aircraft sales, and the American aerospace giant was also promoting innovations in its space operations as it chases NASA's commercial crew market. Former Shuttle astronaut Chris Ferguson was on hand to speak to journalists about Boeing's CST-100 Starliner capsule, which could service manned spacecraft in low Earth.
Another sign of a desire to be more open and fleet-footed in order to react to changes in the space market was visible at ESA, where the Agency's stand had a prominent series of open 'agora' style debates mixing senior staff with engineers and marketeers from the space business to discuss trends in a more informal manner than seen in previous years.
The urge to keep pace with change is warranted, as the space sector has grown rapidly in recent decades, with more than 70 nations now considered 'space faring', and private investors being attracted by policies in the US and Europe to encourage everything from commercial rockets – think Space X – to commercialisation of free data from space – think Europe's Copernicus Earth observation programme.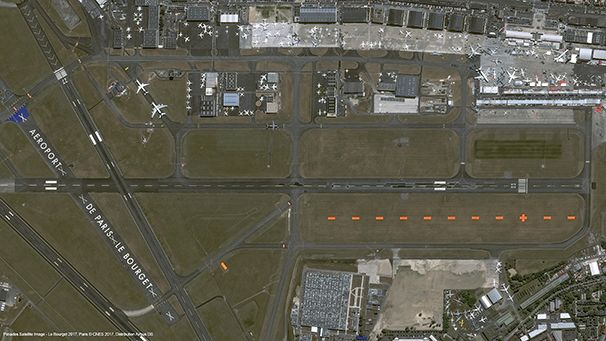 Airbus Defence and Space photographed Le Bourget from space, its Pléiades satellite taking this snap of the assembled planes sitting on the baking tarmac.