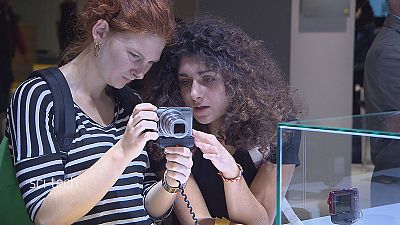 The image has never been so widely available and the photographic industry is providing a wide range of technology to slake this contemporary thirst.
Digital camers, 360° and 8k video, drones and phones.
The market is huge when you consider 350 million photos are posted on Facebook, 95 million on Instagram, 400 million on Snapchat and 1.6 billion via WhatsApp every single day.
The Photokina trade show in Cologne keeps the consumer in the picture.
Rainer Fuhres is from the photo industry association: "Today's younger generation is growing up in a totally different way and consider pictures as the most natural things in the world. An image is a main component of communication. It is only natural, that along with this daily exposure to images comes a desire to improve the quality of the pictures, to make better videos. In my opinion social media has done wonders for our industry.
The change is a move away from digital. Classic cameras are struggling to find an audience when smart phones are produce such quality images.
John Willenborg is the founder of Exolens:"The power of mobile phones now allows anyone, a film student, a cinematographer to make a film with some lenses and a mobile device and it no longer looks like it was shot on a phone. They can't tell the difference between a proper camera and a device with good lenses."
Multi-copters and drones aare expanding rapidly and Photokina demonstrated the efficiency and flexibility on offer.
Isabel Pakowski is from GoPro Europe:"Action cams have a number of advantages compared to more traditional cameras. Initially, as one can see, it's the compact design. We launched this one yesterday. It's watertight outside its casing too. It is incredibly robust. You can really be adventurous with it. And that means you can definitely put this to use for a relatively low budget and have loads of fun with it."
New lighting solution for GoPro</a> from <a href="https://twitter.com/LumeCube">LumeCube! #Photokinapic.twitter.com/pYqLeaxS6d

— B&H Photo Video (@BHPhotoVideo) September 22, 2016
Two of the most exciting expansions in the video industry are virtual and augmented reality solutions. Sales of just under 9 million VR headsets are forecast for 2016. So, there are futuristic concepts, but also a revival in analogue products. The Polaroid camera had almost died out and now instant cameras are enjoying a real boom and are even overtaking their precursors when it comes to sales.
We have some exciting #Nikon news to share at 16.00 on Monday 19 Sept., #live from photokina</a> - stay tuned! <a href="https://t.co/8VVdJ53XWy">pic.twitter.com/8VVdJ53XWy</a></p>&mdash; Nikon Europe (NikonEurope) September 18, 2016
Jennifer Posny from Lomography says its a hand thing:"Today people want things they can hold in their hands, which isn't just digital. Instant cameras are suitable for everyone because they are so easy to use and you can be holding an nice snap in your hand within seconds."
Drop by our booth and take a selfie with our giant, 150-kg heavy Lomo'Instant at the .photokina</a>! <a href="https://twitter.com/hashtag/photokina2016?src=hash">#photokina2016</a> <a href="https://t.co/xt2sQFZxbK">pic.twitter.com/xt2sQFZxbK</a></p>&mdash; Lomography (lomography) September 23, 2016
Photokina boasts 1,000 exhibitors showcasing a variety of products that represent the latest innovations in the rapidly moving picture market.