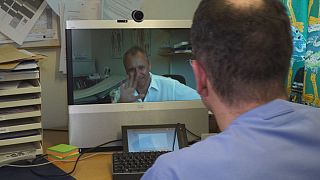 Euronews' Jeremy Wilks travelled to Stockholm to see how a seemingly simple change in the way that doctors communicate has slashed waiting times for Parkinson's disease patients from six months down to just seven days.
We have to make our regulations more flexible and open so that health professionals can try actually what's best for the patient.
It is a change which is all about putting to one side the old ways of working, like pen and paper, and moving to new technologies like video links instead.
The pioneers of the project are two neurologists, Doctors Anders Johansson and Christian Carlström.
They began holding weekly video conferences to discuss whether Christian's Parkinson's disease patients needed advanced treatment or not.
So, how much time are the docotrs saving with this project? "It takes me 15 minutes instead of one or two hours if the patient would have been referred here and I would have to search for extra information and follow up with telephone calls etc," Johansson tells Euronews.
"Before we had no contact, either by eye or ear. I wrote a letter to him. Which is not a very good way to communicate. And it takes a lot more time." says Carlström
Switching to video links rather than letters has not only cut waiting times to see a specialist, but also reduced unnecessary referrals, according to a review by the Karolinska Institute.
We met two leading patient representatives to get their view:
"There are long waiting times, from six months up to one year, two years maybe of waiting time," says the Chair of the Stockholm Parkinson's Association Eleonor Högström.
"The fact that they are working together in this way does make it much more efficient," says the Secretary General of the Swedish Parkinson's Disease Association Inger Lundgren. "There's always a danger when two neurologists talk together that it happens over the head of the person who has Parkinson's. And it's very important that the one who has Parkinson's must be involved from the very beginning, and this is a small risk."
Healthcare systems in general are slow to embrace digital innovations.
One of the reasons lies with their administrations, according to Stockholm county council's E-Health expert Daniel Forslund.
"If the hospital or the health clinic is not reimbursed for a digital meeting or a virtual meeting then they will naturally only provide the old ways of interacting with a physical meeting. So we have to make our regulations more flexible and open so that health professionals can try actually what's best for the patient," he tells Euronews.
Many voices agree that this new approach does have potential. But for the moment it remains on a very small scale. So how would the doctors like to see things develop in the future?
Dr Carlström believes it would be worthwhile to try this video link technology with patients too.
"It would work like this: the patient has a camera and video equipment at home and they could just be online two to three times a day, five minutes each, and I could ask the patient questions like 'How is it?', 'Can you show me the movements?', 'Is it better now'?"
Given that video-conferencing technology and virtual meetings are part of daily life for many professionals in other sectors, one has to ask why this had not happened in neurology before.
"That's a very good question, and I don't know," says Johansson. "It's so obvious and easy, it's just better than the way things were before."
The project in Stockholm has now been extended to five other neurologists in other parts of Sweden.