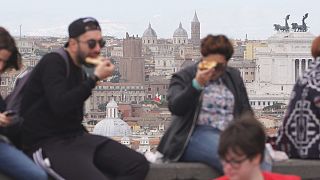 Six months ago Stefano De Santis sought help – he was overweight, had high blood pressure and high cholesterol.
The 41-year-old told Euronews how, with the help of nutritional biologist Serena Capurso, he has lost 11 kilos since then.
"Recently I wasn't feeling very good, and so I decided to do some blood analyses, and the results were catastrophic," explained Stefano. "So through a friend I asked Dr Capurso for help. I was very worried because I wasn't sure I would be able to follow a diet."
Obesity is a serious threat to the sustainability of healthcare systems, as it can lead to heart disease, diabetes and other long-term problems.
Wider trends in society don't help the situation either.
Serena Capurso explained more: "We have the impression that healthy eating has become too expensive in economic terms," he said. "And then there's advertising surrounding us that pushes us to choose garbage products, junk food, high calorie content, and so the consumers end up being confused."
Obesity rates have doubled worldwide in the last 30 years, and the problem is not going away. In Italy one in three children is classed as overweight. Policymakers need an effective response, but how are they going to know what will work?
With this question in mind, Euronews reporter Jeremy Wilkes travelled to the University of Rome to meet a professor who wants to help them choose the right path.
Professor Vincenzo Atella has worked with The Organisation for Economic Co-operation and Development (OECD) and University of Southern California to develop a 'micro-simulation model' that helps policymakers weigh up the most cost effective approach to obesity.
"We did a series of simulations and they said that if we succeeded in having a population at the age of 50 in better health in terms of the level of obesity compared to the current population, this is how much I would be able to save," Vincenzo Atella, Professor of Economics, University of Rome Tor Vergata told Euronews.
"The model's benefit is not to predict the future, but the capacity to say today to politicians, if you have two possibilities, two things you can do, we say if you do A or if you do B this would be the result," added Atella.
Such choices could be advertising regulation, food labeling, or education – investments which take decades to pay off.
Persuading politicians to act
Euronews asked Italy's top health advisor Walter Ricciardi how to persuade politicians to act?
Ricciardi explained that two things are needed.
"The first thing, give them scientific and solid evidence, otherwise they are just opinions," he said. "And the second is to play on their leadership and their ethics, because the money that they are going to invest now will have some results when they are not in power anymore. And it's important to persuade the politicians that they don't have to think only about the next election, but also about the next generation."
Mediterranean diet abandoned by Italian youth
That younger generation appears to be abandoning Italy's famous Mediterranean diet. Nutritional Biologist Serena Capurso told Euronews about other relevant factors.
"Physical activity has become undervalued, when it should be the starting point," said Capurso. "And I see in our primary and second schools that sport and physical education is being absolutely sidelined."
The difficulty now is to select the right policy responses. According to the OECD, 75,000 deaths a year could be avoided if a comprehensive strategy to deal with chronic diseases linked to obesity was implemented in Italy.