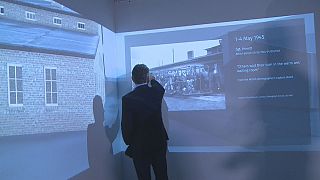 How can virtual reality help to preserve historical heritage? In this episode of Futuris, show host Julián López Gómez travels to both Germany and Spain to find out.
We have built an educational paradigm for the learning of history
Bergen-Belsen recreated with augmented reality
During World War Two, around 70,000 people died at the Bergen-Belsen concentration camp.
All traces of the camp were destroyed after the war, so today the area looks like an ordinary German forest.
A new tablet application, however, uses geo-localisation – as well as virtual and augmented reality – to recreate the camp at various points in history.
Stephanie Billib, a historian at the Bergen-Belsen Memorial, explains: "The memorial today is an empty space. There are no barracks or any other remnants of the camp. But when you see this reconstruction and when you walk around with this (a tablet connected to the app), it is a useful aid to get a feeling for the place."
German boy walks on a road with hundreds of bodies from prisoners near the Bergen-Belsen extermination camp,May 1945 pic.twitter.com/LQfnZoyP3a

— History In Pictures (@historyepics) March 14, 2016
Benedict Plath-Steinbach is among group of young students who visit the site and experiment with the new app.
"I learnt a lot today. Everything that happened here is horrific. You can see everything – mass graves, the children's cemetery and the crematorium where people were burned," Benedict says after touring the memorial, tablet in hand.
History teacher Jan Frühmark is enthusiastic about the learning benefits of the experience.
"This tablet and the app that goes with it motivates the pupils much more than a traditional lecture. It pulls them in," he says.
Billib adds: "It is very difficult to understand the history of this place – it is beyond our comprehension. So (any tool that can provide) emotional access is an additional help."
The Bergen-Belsen Memorial app was developed by scientists at the Synthetic Perceptive, Emotive and Cognitive Systems (SPECS) group at the Pompeu Fabra University in Barcelona.
SPECS is a core partner in the European research project, Collective Experience of Empathic Data Systems, which is aimed at developing integrated technologies to support human experience and understanding of large datasets.
#Queen to visit former #BergenBelsen concentration camp
Will she use the app created by SPECS? http://t.co/nzlsh4PwIkpic.twitter.com/Qh6EdttmGV

—

SPECS

(@SPECS_lab) June 24, 2015
Paul Verschure, a psychologist at Pompeu Fabra, explains: "We have built an educational paradigm for the learning of history. And this paradigm is completely grounded in being active. So the space is not only an anchor for history. It is also a medium that helps us to really boost memory and experience."
The platform combines maps, geo-located 3D models of the camp at different points in history, virtual and augmented reality views, contextual documents, and many historical records, assembled with the help of computer scientists and also artists.
"The next step is to really make this platform part of the whole education programme. To really embed it as one of the tools for teaching history. Not to replace anything, but to use it as one of the tools that the memorial has to show the past," says Sytse Wierenga, an interactive media expert at Pompeu Fabra.
Scientists say they are now looking for ways to make the system at the Bergen-Belsen memorial site even more tailored and personalised for visitors.
The next step, researchers believe, is to provide completely immersive, topographical overview of the historical site.