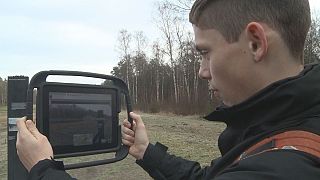 Looks like an ordinary German forest.
And yet over 70.000 people died here between 1941 and 1945.
Bergen-Belsen concentration camp was demolished after the war.
So visitors find it difficult to catch the scope of the horrors that happened here.
That´s why the Memorial is testing an experimental app.
It is based in Augmented Reality.
The app accuretaly shows the camp´s original structure.
The platform was developed with the help of survivors by computer scientists working at this Virtual Reality lab in Barcelona.
Researchers hope their project will help new generations to understand better recent European History.