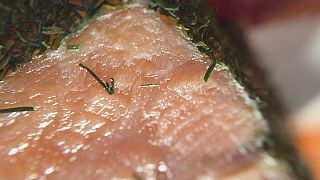 Futuris producer Denis Loctier has a fishy tale for foodies and scientists: ''Smoked salmon is a speciality dish. Still it's hard to believe that certain desirable products can be made from leftovers with the help of a special bacteria!"
A small factory near Hamburg has been producing fish and seafood delicacies for almost 30 years. All the fish fillets are hand-trimmed to the exact size and shape required by the client. The leftovers, all perfectly good fish trimmings, are not commercially attractive. At best, they can be sold at a low price for pet food.
.EdinburghNapier</a> students visited Die Räucherei in <a href="https://twitter.com/hashtag/Hamburg?src=hash">#Hamburg</a> as part of TEC yesterday. Follow <a href="https://twitter.com/hashtag/TECNapier?src=hash">#TECNapier</a> for updates! <a href="http://t.co/cjCKwlxnK1">pic.twitter.com/cjCKwlxnK1</a></p>&mdash; Bright Red Triangle (BrightRTriangle) September 17, 2015
Hans-Joachim Kunkel is the founder and owner of Die Räucherei
"Here, we skinned this Norwegian farm-raised salmon, and we've got all these bits and pieces which until now were a problem, as we couldn't get good price for them."
To find a solution, this company joined a European research project that found a way to make a high-value product from fish trimmings by fermenting them. A powder contains specific food bacteria, a starter culture similar to those used in the dairy industry. 
Dieter Elsser-Gravesen a food microbiologist explains the science: "We have selected several bacterial strains necessary for the fermentation of fish. We have cultivated them, concentrated and then freeze-dried them into a powder. To start the fermentation process, we need to add about one million of single bacteria cells per gram of product."
Flossen hoch! ttzBremerhaven</a> mit dem EU-Projekt FishFermPlus in der <a href="https://twitter.com/techreview_De">techreview_Dehttp://t.co/k1fZCJWyKopic.twitter.com/qBeLZr3×0q

— ttz Bremerhaven (@ttzBremerhaven) March 10, 2015
In a microbiology lab in Denmark various strains of food-derived bacteria have been studied to find those that produce the best results. Natural fish fermentation is quite widespread in Asia, but the results of that uncontrolled process may vary. European researchers wanted to come up with a safe and reliable technology. 
There are hundreds of thousands of types of bacteria, which can be found in food what are the necessary characteristics for this process?
Dieter Elsser-Gravesen: "We had to isolate many different strains, and the reason is that they need to meet a lot of different criteria, the food should be fermented in such a way that we'll get a specific texture, flavour and taste."
Bacteria must also protect the food from spoilage. The controlled fermentation prevents the growth of pathogenic microorganisms so the final product is safe to eat, has a long shelf life and all that without artificial preservatives!
Anne Elsser-Gravesen is a food microbiologist:
"The bad bacteria are the ones we hear about in the news; but the good bacteria are the ones that we eat every day. And they can be used to make a lot of delicious food products, like yogurt, like cheese, like coffee, chocolate, salami a lot of products we really like and eat every day are made by fermentation, by putting in bacteria."
Back to Hans-Joachim Kunkel at Die Räucherei for a sample:
"So, here is the final product. After a few days of fermentation the raw fish meat matured to the right texture and taste. It works very well – taste for yourselves!"
www.fishfermplus.eu
Superior seafood by Die Räucherei. Our partner at stand 4J50 #WTCE2015pic.twitter.com/fVyEIlP729

— Christoph Stegmiller (@NovoFood) April 16, 2015
The unattractive fish cuts have turned into this hot-smoked delicacy with a fine taste and texture. This manufacturer plans to sell it to premium clients, such as airlines for their business class meals. Thanks for the treat, bacteria!