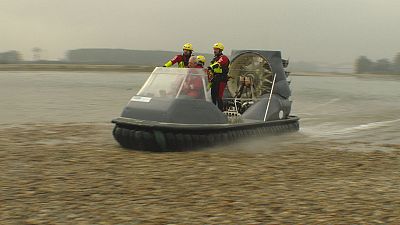 Some 50 years after its first appearance, the hovercraft has a role as a versatile and adaptable vehicle, particularly in emergency situations. Riding on a cushion of air and driven by a propeller, it moves on water and on land, getting to places where boats or cars cannot.
At a European-backed research site on the river Po in Italy several innovations have made this complex machine easier to operate. Angelo Odetti, a naval engineer, with Hovertech Ltd explains: "One of the most important innovations is in the system of surface control. It's called Flaptons and compensates the hovercraft's tendency to lean into curves."
Another important development is in the control systems: "We have this command that allows us to put the nose down, nose up, reverse, left and right," said Marco Mastrangeli, project coordinator, and president of Air Cushion Technologies Research Center (ACTR) demonstrating the craft's steering features. "The engine is like an outboard motor, it can be detached and attached on another hovercraft, or on two coupled hovercraft to obtain a larger hovercraft."
Versatile craft
The new hovercraft can be used in environmental research or to survey oil spills, for example. But it can also be used for rescue. "The hovercraft can help us when we work on the river, at sea, and above all, in floods," said Vincenzo Minenna, Outdoor rescue instructor, Rescue Project Asd, "For this vehicle to be an effective solution the training on how to operate it is critical. Manouevering towards someone in the water requires a great deal of skill."
The idea of creating a new generation of hovercraft began at a castle in Italy's Liguria region, which served as the base for the research. Here, naval engineers and other experts looked into many possible innovations to the craft's original design.
"Twenty-seven years ago I bought a company in which there were two small hovercraft made in the USA," said Mastrangeli "From there I saw that there were opportunities to work in the lagoon, but these hovercraft were… they were too small, with two-stroke engines.
Now the research to improve the hovercraft involves specialists at a European level. Paola Rigoni, communications manager with Servizi Operativi Anfibi Srl said:
"The Hoverspill consortium got assistance from experts in the fields of fluid dynamics, mechanical engineering, and propellers. All their input was necessary to come up with this new specialised craft."
Their combined efforts not only generated a multi-tasking and easily adaptable vehicle, but also developed an extensive programme for the prevention of coastal disasters; Shore Sentinel, which Mastrangeli explained, will be based in Venice and along the river Po: "This location should provide cover for emergencies in some 200 or 300 municipalities. Teams with specialist equipment will be ready to go in major emergency situations, like floods in Bangladesh, with hovercraft stored in containers at Rotterdam airport, ready for shipping."