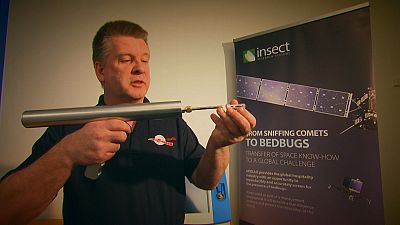 This month's Space focuses on startups in Europe that are finding everyday Earthly applications for space innovations.
There's a long tradition of transferring technology from one sector to another to improve life on our planet, and in the case of space that can lead to some unlikely links between science success stories such as the Philae lander, and the hunt for bedbugs in hotel rooms, or between the Smart-1 moon mission and the efficiency of geothermal energy.
We visit two of the 11 European Space Agency business incubation centres around Europe, one in Barcelona, the other near Oxford, meeting a diverse range of young companies that qualify for the incubation centres' package of financing, advice and office space.
These include HEMAV, a drone firm using enhanced GPS, Rescon, a startup developing a new health monitoring system, WSN, who offer phone and internet services to shipping, and Oxford nanoSystems, who have a unique new coating for heat exchangers.