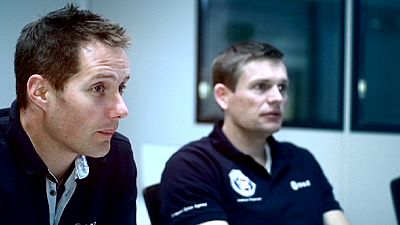 "You need to be a good handyman if you want to be a good astronaut," smiles French astronaut Thomas Pesquet as he trains on the Columbus module of the ISS with fellow spaceman Andreas Mogensen of Denmark.
With a wrench in one hand and a close eye on the highly detailed manual, he is learning to manipulate the racks inside the experimental laboratory.
Keeping a watchful eye on the pair and intervening with specialist advice is Martina Pinni, one of the many trainers who help the astronauts reach the level of skill they need to work effectively on the ISS.
With such bright students, Martina pushes them to learn quickly: "As soon as they progress in their training we start adding malfunctions so that they are prepared to any possible contingency," she says.
Thomas, 36, a commercial airline pilot and an experienced sub-aqua diver, underlines the need to be aware of everything: "We'll be specialists responsible for whatever happens here in Columbus, so it implies knowing the very guts of the laboratory."
As the astronauts manipulate the tricky racks inside a small space, Martina explains what's happening:
"In case there is a meteorite that is hitting the shell, they have to be able to remove all the racks in the module, and be able to find where the hole is and repair it."
That hasn't happened so far in space, but the watchword is to be prepared, and stay positive.
"I'm a big optimist, and we all are, so we don't think about what could be wrong, we train for it, and if it happens we'll be ready," says Thomas.
Since joining the European Astronaut Corps, Thomas has taken part in exploration training courses: living and working underground on ESA's CAVES training course in 2011, and underwater on NASA's Seatest-2 mission.
He will be leaving our planet for six months from November 2016 as a flight engineer and returning in May 2017.
Thomas Pesquet
Thomas will launch into space for a 6-month mission from November 2016 on board the
ISS
. Born in Rouen, France in 1978, Thomas is a black belt in judo with an interest in mountain biking, kite surfing, skiing and mountaineering. With a Master's degree in spacecraft design and control from the Institut Supérieur de l'Aéronautique et de l'Espace, he has worked for French space agency
CNES
and space engineering company Thales Alenia Space.