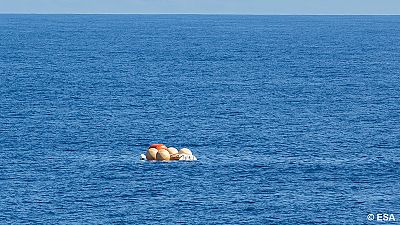 The European Space Agency's IXV Intermediate eXperimental Vehicle, as its called blasted off from its launchpad in French Guiana.
Its flight path was closely monitored at the European Space Agency's mission control at Thales Alenia Space in Torino, Italy.
A variety of materials from high-tech carbon fibre to ordinary cork were tested to shield the wingless craft during re-entry after it had soared to an altitude of 413 kilometres and descended at speeds of up to 27,000 kilometres an hour, before splashing down in the Pacific Ocean.
Euronews correspondent, Jeremy Wilks in Italy says: "The atmosphere in the control room is now relaxed and happy. The data has come down from the IXV spacecraft, the mission was a huge success and that's going to feed all kinds of new types of space missions, spacecrafts in the future over the next 20 years".