EU seeks to be competitive in the race for rare earth metals
Comments
By Euronews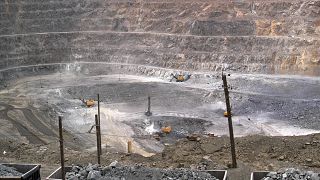 -
Countries are racing to get rare earth metals and other critical minerals, some of which are necessary for the climate transition.
These elements are essential for manufacturing electric batteries, wind turbines or even connected devices, but China controls the largest share of rare earth metals in the world.
Public and private players from the EU met in Brussels for a conference on Friday devoted to the development of the sector.
"Every week we see more and more projects coming in on raw materials and in particular the critical raw materials," said Eoin Keane, a sector engineer at the European Investment Bank.
"So I'd say on average one or two projects every week and over the last two years, we've probably seen 80 projects come in...we look at everything from extraction, through to processing, through to the battery factories, also all the way to assembling."
Some companies think that in order to reduce its dependence, the EU will need to extract metals on the continent.
"An opening of a mine can sometimes easily take up to 20 years, 15-20 years, and the big part of that is also through the permitting stage," said Jonathan Vanherberghen, a principal advisor on EU Affairs at Rio Tinto, the world's second-largest metals and mining corporation.
"So, I think especially in Europe there is room to make that process easier, quicker. But I think in Europe also, we are looking at 27 different, let's say, Member States, with all slightly different mining legislation and I think a lot can help in trying to unify that and bring them together going forward."
But the industrial issue also raises societal questions.
In order to exploit these rare earth metals, local authorities and citizens will have to be convinced to accept the opening of mines, which is synonymous with environmental degradation and may be too much of an ask for many.