RT and Sputnik: Kremlin-backed media evading EU ban on content, says report
Comments
By The Cube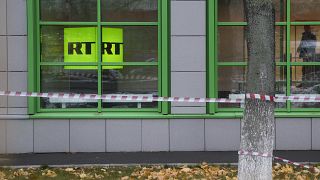 -
Copyright

Pavel Golovkin/AP Photo, FILE
Russian state media have still been able to share their content in the European Union despite a ban, a report has found.
The Disinformation Situation Center found that articles from Kremlin-backed media Sputnik and Russia Today (RT) were still visible to EU users on social media.
European Commission President Ursula von der Leyen has announced plans to ban three Russian state-owned broadcasters as part of a sixth sanctions package.
The bloc had already banned RT and Sputnik from sharing the content in the EU in March, following Russia's invasion of Ukraine.
But researchers say that the Russian broadcasters have evaded the measures to continue to spread the Kremlin's war narrative to millions of EU citizens.
"RT had not only found ways of getting around the sanctions; they had made changes that placed them multiple steps ahead of regulators," they said.
The report found that Facebook, Instagram, Twitter and YouTube are identifying and labelling content only with "varying degrees of success".
Twitter was found to be the most effective at flagging material but has still failed to remove 47 RT or Sputnik-linked channels including Radio Sputnik's account.
The report also found that Russian state media content was still available to EU Facebook users through proxy websites. Visual content bearing RT logos was also still visible.
Instagram had blocked or removed just 28 out of a total of 72 accounts linked to the two Kremlin-backed media groups, while 44 YouTube channels were still active, according to the report.
Researchers also noted that individual RT and Sputnik journalists have continued to disseminate Russian propaganda about the war.
"RT editor-in-chief Margarita Simonyan has adapted her social activities and is playing a pivotal role in amplifying Russian state media content, unchecked by the social platforms," researchers said.
"Instead of retweeting, Simonyan posted verbatim copies from RT dispatches," they added.
The report also stated that RT's main international website remains accessible through a virtual private network (VPN) and the broadcaster's German-language podcasts were still available on Apple platforms.
Content from both RT and Sputnik is still readily available to EU users on the Russian messaging service Telegram.
The European Commission has said that Kremlin-backed media have an "essential and instrumental" role in facilitating Russian aggression toward Ukraine.
Von der Leyen has specifically called the TV channels "mouthpieces that amplify Russian President Vladimir Putin's lies and propaganda aggressively".
"We should not give them a stage anymore to spread these lies," she told EU lawmakers in Strasbourg on Wednesday.
"They will not be allowed to distribute their content anymore in the European Union, in whatever shape or form, be it on cable, via satellite, on the internet or via smartphone apps," 
As social media platforms battle to combat the spread of banned Russian propaganda, the bloc is also preparing a new Digital Services Act (DSA) to better regulate online media.
The new regulations will force Facebook, Twitter, YouTube and others to moderate the content they host or faces fines of up to 6% of their global turnover.
Euronews contacted Meta and Google for a statement in response to the findings by the Disinformation Situation Center.
A Twitter spokesperson said that company had taken steps to prevent state-affiliated news outlets from amplifying their content on the platform
"We continue to add labels to additional government and state-affiliated media accounts on the service to add clarity and context," they added.
Twitter says it has labelled more than 260,000 unique tweets from Russian state media since February 28, and helped reduce the reach of their content by 30%.
The Disinformation Situation Center is a recently formed coalition of civil society organisations that aim to combat Russian disinformation about the war against Ukraine.